Baby bottom soft and slightly wrinkly, they are the most beautiful things I have ever seen. The tendons in her hands line up next to each other like fr
eshly-planted crops with blue veins watering between them, just waiting to gift mother nature's bounty.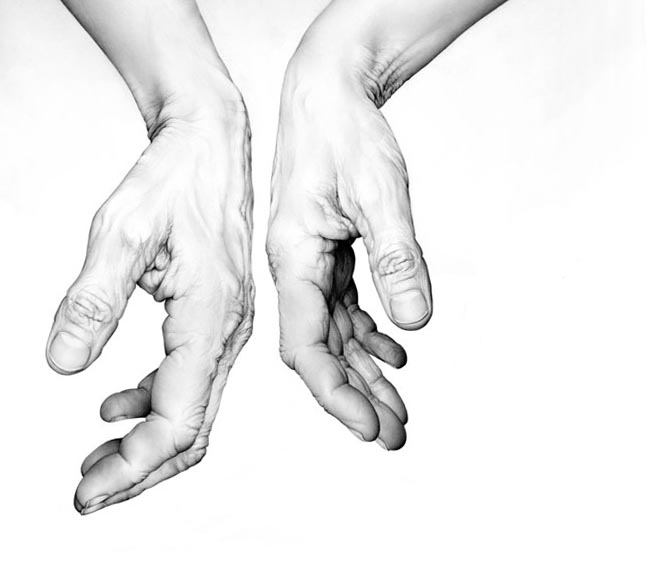 These are
giving hands, yielding hands. My mother's hands. Always outstretched in some sort of service, each wrinkle and liver spot tells a story and stores a piece of herself that she gave to someone else. I love the perfection of her and her hands, but I love their "imperfection" even more.
Thirty-three years ago she was given a small gold wedding ring with a quarter carat diamond in the center. She wore it humbly and proudly but one day it didn't fit. My dad lubed her finger up with butter and tried to pull it of but that dutiful ring didn't budge. It hadn't budged in twenty one years. It had a front row view of years of service and sacrifice. So he wound floss around her finger tightly. Her finger turned red, then blue, then purple the veins pulsing angrily for relief. I panicked at the thought of her losing one of her precious fingers. Take any fingers but my mothers! After an eternity, the ringer slipped hesitantly off her finger and her finger was bare. A new ring replaced the old one, my dad surprised her. Maybe not so humble and dutiful, the new ring sparkled and shined. It is platinum and has 3 diamonds instead of one. It's one of those past, present and future rings. Which, I guess is only fitting as they have a dutiful past, a sparkling present, and a timeless future. She loves it and raises her last two fingers in a wave-like motion just so the light will capture the individual cuts of the diamond. She casts a rainbow everywhere she goes. She has always been modest and this is the first time I have ever seen her show off anything. She reflects her marriage in her hands.
After showing off the ring came hints of her sassy side. Every day for thirty minutes my mother's hands exercise her brain by playing Dr. Mario on an old Nintendo 64. She plays on a tv that was long forgotten, but is up and out of the way in her game room turned sewing room. The room is piled high in quilts or dresses or projects for someone else waiting to be finished. She loves too many people. But when her hands ache from working the needle through thick fabric, or cutting out seemingly endless amounts of fabric she takes a break and turns on the forgotten tv tucked away in the corner. She has a banana chair set in front of the old set and will lean back so she can sprawl her legs wide to place a foot on each side of the tv, almost like she is preparing to give birth again. This is the one game she loves, because this is the one game she will always win. This is the one game I get to see a hint of the competition and genius inside my mother. I get to see her natural man, her enemy to God side. Her fingers whiz away on the joystick and the different buttons, cursing viruses as she desperately tries to save the sick with copious amounts of colored pills. I'm pretty sure she shouts at them in her mind to die. I see that spark in her eye, but she would never say it aloud. Unless of course she slips a "stink", which sometimes happens. She is really good at this game and beats my butt every time I play against her. My cheeks sting as I think about it. The only thing I have ever seen her be remotely prideful about. But I love it when she wins. She gets humbly smug, I didn't even know such an emotion is possible, but somehow she can do it. She reflects her personality in her hands.
These are her opportunities to plant nourishment back into the soil of her hands. Nothing can grow without nourishment. This gives her the strength to scrub grout, sitting on her hands with her hands clenched to the scrub brush, moving back and forth between the work of the dirty grout and the eroding simple green that leaves her hands red, cracked and dry. This gives her the strength to play with, take care of and carry five grandchildren who all want to crawl all over her and get as much of grandma as possible. This gives her the strength to rub my back in the morning, waking me up with her cold hands as she snuggles close to push me out of the bed. She lies there for a few minutes after I get out, talking to me about my plans for the day and adding the appropriate tidbits of advice. I have many mantras. This gives her the strength to make several batches of succulent jam to give to the neighbors, or dip professional-looking caramel apples, or comforting cookies as my best friend prepares for her wedding, or consoling casseroles to someone sick or in need. She always imparts of her substance. She has true charity. She reflects her love in her hands.
I want my mother's hands.
Mine are the exact same shape and size, yet not as be
autiful. I don't have so many stories.
My new engagement ring is gold with a single diamond in the center and will sit dutifully on my hand for twenty one years or more. Every time I look at it I think of my mother and the devotion she showed to my father. I anticipate my marriage to be the same. Right now I only have a sparkling future. As soon as my ring took it's seat I started to wave my fingers in the same manner my mother does. I guess I am just hoping that my hands will become her thirty-three years in the future hands, overnight. I want her skill in Dr. Mario and her desire to heal the pretend sick with bottles and bottles of fake pills. I want to be domestic goddess like she is in all things cooking and cleaning and giving and playing and tending and caring. I want to yield fruits of my labor like she does. I want a mother's hands. Holy hands. Beautiful hands. Hands of selfless service.